Items you will need
Tape measure

16 stakes

Post hole digger

6-foot posts, 15

10-foot boards, 42

Galvanized nails

Level

4-foot-wide gate and latch (preferably a "rodeo latch")

Rototiller

Rake
A round pen is an indispensable training tool for the horse enthusiast. It offers you a safe, confined area to work with your horse either on a lunge line or while riding. This wooden round pen can be built in a weekend and enjoyed for years. A round pen needs to be at least 50 to 60 feet in diameter for the safety of both horse and rider. These directions are for building a 50-foot round pen that is 5 feet tall, but they can be easily modified to change the size or the height of the pen.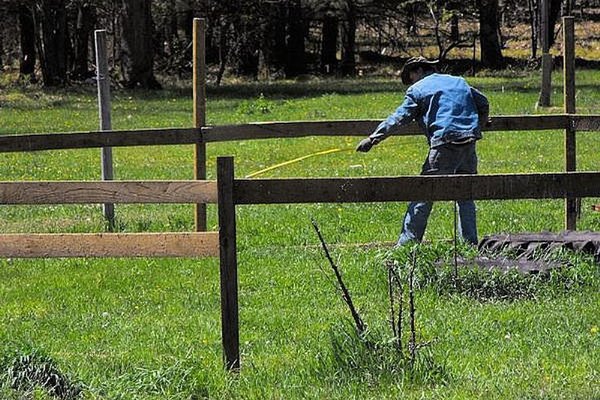 Place the first stake in the center of the area where you wish to build the pen. Measure 25 feet out from the stake in one direction and place your second stake in this spot. Repeat this action, forming a circle of stakes around the first stake as though you were sectioning a pie. The stakes indicate where the posts will go. Each stake needs to be 10 feet from next one — you'll nail the 10-foot-long boards to the posts to form the rails — and be sure to leave room for the gate.
Using your post hole digger, dig a hole for each post. Bury the posts at least a foot down for stability. As you fill in the holes, tamp down the dirt with the handle end of your shovel or another stick. Taking this extra time to secure the posts ensures the pen will hold up to being jostled by horses and riders.
Start nailing your boards to the posts to create the top rail. The boards should be nailed to the inside of the pen. This way, the horse and rider will not injure themselves on the posts. Tap in a nail on each end of the board just deep enough to hold it in place; use your level to ensure it the board is straight before driving in the nails the rest of the way. If you have a helper, you may be able to skip the pre-nailing step. The height is the pen is up to you, but on most pens the posts extend above the top rail by an inch or two.
Add a second and third row of rails to the fence. Leave enough room on the bottom that a thrown rider could roll out of the pen to safety.
Attach the gate. You can install a prefabricated metal gate, or you can build one from wood if you're handy enough. A 4-foot-wide gate fits a 50-foot ring perfectly. Avoid gates with rounded corners if possible, as they can become safety hazards should your horse throw its leg up between a post and a rounded corner of the gate. Straight edges meet up more evenly and don't pose as much risk. Use either chain or rodeo latches, as other types can pose a risk of catching on a halter.
Till the ground inside the pen. Round pens ideally have a soft surface such as sand. Hard ground is a no-no — imagine a rider being thrown onto it. A bit of resistance offered by soft ground is also good for the horse and less jarring to their joints. Rake out the pen after tilling. Remove any large pieces of sod and ensure there are no pits or holes that may injure your horse. It should resemble soft garden soil ready for planting. With time and use it will become the perfect medium, somewhere between soft tilled soil and firm ground.
Paint or stain the boards to your liking. If staining treated wood, it's best to wait until the wood has been exposed to the weather and elements for a full year.
Cite this Article
Choose Citation Style
Contributor. "How to Build a Round Pen for Your Horse." Animals - mom.me, https://animals.mom.me/how-to-build-a-round-pen-for-your-horse-7530587.html. 11 August 2017.
Contributor. (2017, August 11). How to Build a Round Pen for Your Horse. Animals - mom.me. Retrieved from https://animals.mom.me/how-to-build-a-round-pen-for-your-horse-7530587.html
Contributor. "How to Build a Round Pen for Your Horse" last modified August 11, 2017. https://animals.mom.me/how-to-build-a-round-pen-for-your-horse-7530587.html
Note: Depending on which text editor you're pasting into, you might have to add the italics to the site name.
See More Animals