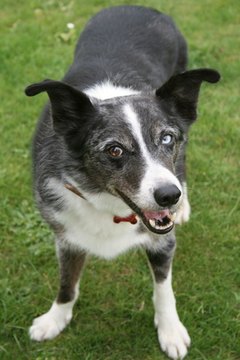 Items you will need
1/2-inch plywood

Tape measure

Circular saw

2 6-inch boards

Nails or screws, as desired

2 heavy-duty hinges (optional)

2 heavy-duty slide bolts (optional)

Outdoor carpeting

Stain or desired finishing product
You love your companion animal and think of Fido as a member of the family. Like humans, dogs can suffer disabilities, or simply become too old to easily do the things they used to love to do. And it's a fact that when you are hanging out on your deck, you want your family together. To make it easier, spend a couple hours building a simple plywood dog ramp. Lean it in place and your dog will quickly grow accustomed to the new-found freedom, joining you on your deck or porch. Best of all, you can move the ramp elsewhere as needed.
Measure the distance between the ground and the deck floor. Use this measurement to determine the length of the ramp you will build -- the shorter the ramp, the steeper the slope.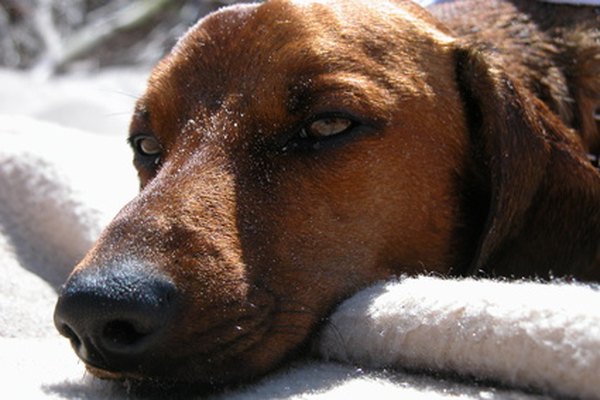 Mark a sheet of 1/2-inch thick plywood to indicate how long and how wide you want your ramp to be. Use a circular saw to cut to size.
Cut 2 6-inch boards to measure the length of your ramp floor -- these will form sidewalls for your dog ramp, if you desire. (You can skip them completely, or use a wider board to create higher walls.)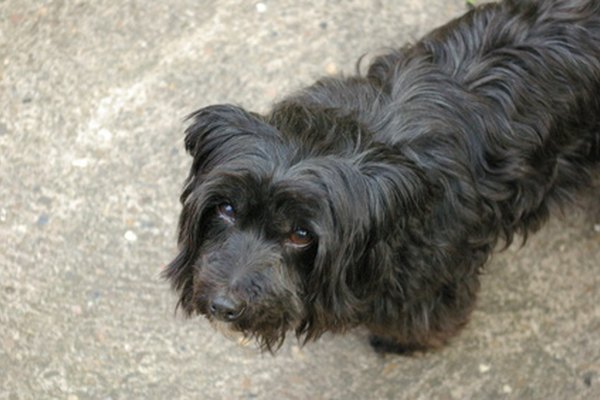 Place the sidewall boards on the outside of the plywood. Allow the walls to drop slightly below the ramp floor -- perhaps a half-inch. This will keep the entire ramp floor from resting against the ground or deck. Nail or screw the sidewall to the ramp, spacing attachments every 6 to 8 inches.
Cover the top of the ramp with outdoor carpeting such as fake grass. Attach with adhesive or with short tacks or screws, penetrating from the top down to avoid injury to dog paws. This covering will prevent your pet from slipping and sliding in wet or icy conditions.
Flip your dog ramp over and apply a protective stain or finish. Dry according to product instructions.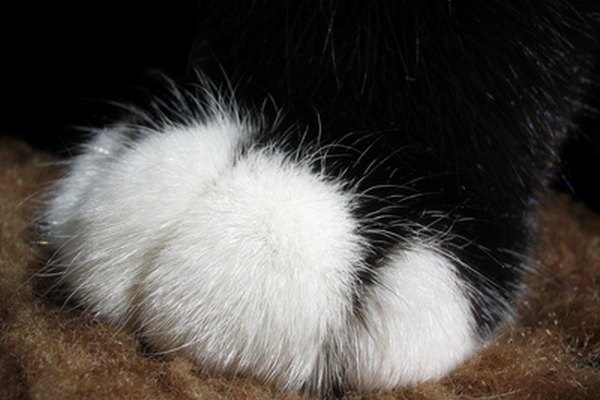 Set the bottom on top of a flat, hard surface such as brick, concrete, or slate if possible. Anchor into place against the deck, if desired.
Tips
Create support legs for the upper portion of a very high ramp, if desired, by measuring the distance from the ramp to the ground. Cut out of desired wood material such as a 6-inch board. Nail to ramp through the side rail assembly. Consult Pet Classics website to determine the length ramp you desire according to the rise of the structure and the slope your dog needs -- generally between 18- and 26-degrees according to the health and agility of your dog.
Make an easily movable ramp by cutting ramp sections in half and securing with 2 hinges; barrel bolts can be attached underneath the ramp to reinforce the hinged area when extended.
Warnings
Make sure that all nails and sharp edges can not injure your pet. Use treated lumber for better durability and rot resistance. The larger and heavier the dog, the thicker plywood you should use and the wider the ramp you need; a standard width tends to be 16 inches.
Cite this Article
Choose Citation Style
Lapham, Karie. "How to Make a Dog Ramp for a Deck." Animals - mom.me, https://animals.mom.me/how-to-make-a-dog-ramp-for-a-deck-12453287.html. 26 September 2017.
Lapham, Karie. (2017, September 26). How to Make a Dog Ramp for a Deck. Animals - mom.me. Retrieved from https://animals.mom.me/how-to-make-a-dog-ramp-for-a-deck-12453287.html
Lapham, Karie. "How to Make a Dog Ramp for a Deck" last modified September 26, 2017. https://animals.mom.me/how-to-make-a-dog-ramp-for-a-deck-12453287.html
Note: Depending on which text editor you're pasting into, you might have to add the italics to the site name.