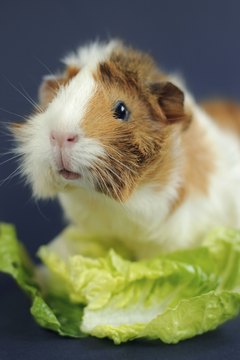 Items you will need
Small litter box

Hay

Fecal pellets

Celery leaves

Strawberry hulls

Carrot peels
Guinea pigs, native to South America and often called cavies, are easily trainable to use a litter box if you offering their favorite treats as a reward in positive-reinforcement training.
Place a small litter box in your guinea pig's cage in the area where he naturally eliminates. A guinea pig will choose a specific area in his cage to relieve himself and return to the same area repeatedly.
Put a handful of hay into the litter box and press it down into the bottom. Add a few of the cavy's fecal pellets to the litter box so the critter will realize what the box is for.
Observe your guinea pig to see when he uses the litter box. As soon as he relieves himself and exits the box, offer him a treat of celery leaves, strawberry hulls or carrot peels, along with a lot of praise and petting.
Tips
Reward your guinea pig when he uses the litter box, but just ignore him if he doesn't use the box. It may take a while for him to use the litter box consistently, but that is part of the training process.

Empty the litter box daily and clean it with warm, soapy water. Dry the box completely before adding fresh hay to it. Keeping the litter box clean will help to potty-train your guinea pig without his having to walk in waste.
Photo Credits
Favna/iStock/Getty Images